WEEK 1
June 18-25
CANAL CRUISE
** All passengers must be present for boat orientation at 2pm
on Sat 6/18 **

WEEK 2
June 25 – July 2
TUSCAN VILLA
The itinerary includes one week cruising the canals and natural waterways around Venice in two private rental boats, and one week staying at our own villa with pool in Tuscany. Add a few days on your own to tour the incredible city of Rome or elsewhere!
Boating in the Venice lagoon
ITINERARY
Casale RETURN via Venice & Stra (Padua)
A blend of historic cities and peaceful islands, this itinerary offers 7 nights on-board our self-drive private rental boat, covering 200 km with 1 or 2 locks in about 15 to 22 hours of cruising (average 2.5 to 3.5 hrs/day). Opportunities to explore a couple of islands on rental bikes. We choose where to stop along the way and where to moor for the night – will pre-book a marina in Venice.
Casale
Our cruise starts with a short 2pm boat orientation at the LeBoat base, where we return at the end of our week:
Address:
Le Boat – Houseboat Italia Via Nuova,
Trevigiana 1, Lughignano de Casale Sul Sile,
31032 Casale sul Sile, TV, Italy
Phone: +39 (0) 339 192 2161
Casale sul Sile
Beautiful town on banks of Sile River with natural park and marvelous landscapes, mooring.
Torcello
Quiet island in the Venetian Lagoon with a great basilica, nice mooring.
MazzorboBurano
Must-see painted houses on this island known for its lace and Buraneo cookies.
Venice
A jewel of history and architecture and one of the most magical cities in the world. We plan to stay 2 nights in the marina within walking distance of St. Mark's.
Pellestrina
Historical center with windmills and old Venetian villas.
Chioggia
Napoleon's villa, Pisani La Nazionale, features Venetian art and a garden with maze.
Sant Erasmo
Shining cathedral city with a magnificent pedestrian square, lots of shops & restaurants.

Jesolo
Shining cathedral city with a magnificent pedestrian square, lots of shops & restaurants.
BUDGET
Estimated Budget $1,288 per person*
Includes boat rental, fees, petrol, bike rentals, groceries & meals out.
*Price reduction if open cabin filled.
BOATS
Two boats will travel in convoy:
MINUETTO 8
4 cabin/3 bath w/AC & bimini sun shade
Eric & Laura
Madeline & Audrey
*Open cabin: Chelsea considering
VISION 4
4 cabin/4 bath w/AC & bimini sun shade
Ian & Marce
Colin & Charl
Nate & Abby
Judy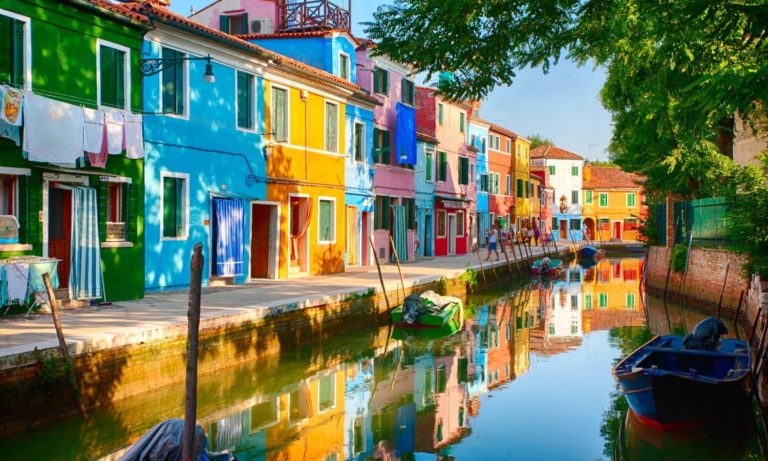 Luxury Villa located in a panoramic position, private heated pool, extensive park
5 stars  *  Wifi  *  A/C  *  Washer (no dryer)  *  Professional kitchen  *  Ping pong  *  Solar-heated pool  *  9 bed / 10 bath + 3 half-bath on ground floor
LAYOUT
All bedrooms have ensuite bathrooms
Ground floor
OPEN – queen + twins*
Marce & Ian – queen
Judy – queen
First floor
Colin & Charl – queen + single
Nate & Abby – twins
Laura & Eric – queen
Madeline & Audrey – queen + single
Ken & Susie – queen
Chelsea – queen
BUDGET
Estimated $845 per person*
Includes accommodation, groceries, meals out & incidental entry fees
Car rental not included
*This cost reduced if we get people in the open room.
LOCATION
In the Apenine foothills near a national park, this less-touristed area of Tuscany offers spectacular landscapes dotted with vineyards and olive groves. The region abounds with historic monasteries and villages, and offers lots of opportunities to enjoy all the delights of Italian cuisine.
Nearest town:
Bibbiena – 4 minutes
Scenic town:
Cortona – 1hr 10mins
Florence – 1hr 20mins
Siena – 1hr 30min
Casentino National Park – 20 mins
Offers numerous hiking, walking & biking trails.
ebike rental $35/day
2022 Note: This page will be updated as new travel arrangements are made.
Your previous arrangements have been saved here for your reference.
FLIGHTS

| | | | | |
| --- | --- | --- | --- | --- |
| Marcelle & Ian | 3-Jun | United UA 923 | Dep LAX 17:45 | Arr LHR 12:20 (6/4) |
| | 26-Aug | United 935 | Dep LHR 13:40 | Arr LAX 16:40 |
| | | | | |
| Judy | 6-Jul | Delta 8553 (Air France) | Dep LAX 15:20 | Arr CDG 11:10 (7/7) |
| | 4-Aug | Delta 6658 (Alitalia) | Dep FCO | Arr LAX 13:15 |
| | | | | |
| Greenes | 11-Jul | Air France (Alitalia) 9747 | Dep LAX  15:15 | Arr FCO 12:15 (7/12) |
| | 4-Aug | Air France (Alitalia) 9748 | Dep FCO 9:10 | Arr LAX 13:15 |
| | | | | |
| Ken & Susie | 13-Jul | Alitalia 641 | Dep SFO 15:15 | Arr FCO 12:15 (7/14) |
| | 1-Aug | Alitalia 640 | Dep FCO 9:15   | Arr SFO 13:15 |
| | | | | |
| Launs | 15-Jul | Lufthansa 453 | Dep LAX 17:20 | Arr MUC (7/16) |
| | 5-Aug | Lufthansa 452 | Dep MUC 12:05 | Arr LAX |
| | | | | |
| Chelsea | | | | |
ARRIVALS IN CASALE
Marcelle, Ian, Judy
Fri 7/17 by car – Overnight at AirBNB in Casier near boat base
Greenes, Ken & Susie
Fri 7/17 by train – Overnight ar AirBNB in Treviso, 8k from boat base
DEPARTURES FROM VILLA
Marcelle & Ian
Sat 8/1 by car Possibly going to Rome for a few days before driving back to London
PHONE NUMBERS
| | |
| --- | --- |
| Balance Due | 4/9/22 |
| Cancel by 4/9/22 | Lose deposit (40%) |
| Cancel by 5/6/22 | Lose 45% |
| Cancel by 6/3/22 | Lose 60% |
| Cancel within 15 days | Lose 100% |
| | |
| --- | --- |
| Balance Due | 4/24/22 |
| Cancel by 4/24/22 | Lose Deposit |
| Cancel after 4/24/22 | ? |
CURRENT RULES/TESTS
Updated 8/30/21
** Verify all information yourself **
• Tests required for air travel will be validated by airline prior to boarding